---
8/31/2006
Man Kills Neighbor Over Molestation Charges
John Edington received a phone call from his wife telling him that a neighbor had molested their two-year old daughter. Edington then climbed through the neighbor's bedroom window and stabbed him to death.

Oh, yeah- Edington is also a lawyer.
---
8/31/2006
UPDATE- Murder Suspect Commits Suicide
From the Times-Dispatch:
The man police believe abducted and killed Emily "Kate" Robertson fatally shot himself as authorities investigated the scene where her body was found Monday in Goochland County.
---
8/31/2006
French Cop Killer a Saint?
According to this blog, Jacques Fesch, a 27-years-old playboy, who was beheaded in 1954 in France for the murder of a police officer following a bungled robbery, is being considered for Catholic sainthood. Apparently, "many Catholics in France now believe that the killer died a saint. Thirty years after his execution, the archbishop of Paris, Cardinal Jean-Marie Lustiger, signed a decree that may one day see him beatified."

He admitted to shooting a police officer in an attempt to flee a robbery. After his conviction and death sentence, he underwent a profound conversion. Not profound enough, however, to convince him of the justice of his sentence, which he believed to be excessive since he did not premeditate the murder.
---
8/30/2006
Police release photo of car linked to girl's murder investigation
Police say they are following several strong leads in the slaying of 21-year-old Emily "Kate" Robertson. One of which is security camera footage of the vehicle she was seen leaving work in.
Follow the story and see the pics HERE.
---
8/30/2006
Violent Crime on the Rise Across Country
As Richmond (Virginia) and surrounding areas struggle with recent high-profile crimes, a Summer crime wave hits Washington, Seattle, Indianapolis, other U.S. cities.

Click HERE to Look up crime statistics for your community.
---
8/29/2006
Detroit Prostitute Murderer
A teachers strike, a winning baseball team and now a Prostitute murderer – busy days in Detroit.
---
8/29/2006
Kid was left alone – some of these tragedies are preventable
---
8/29/2006
Fugitive Polygamist Leader Caught
Warren Steed Jeffs, the fugitive leader of a polygamist Mormon sect and one of the FBI's 10 most wanted, was arrested in a traffic stop outside Las Vegas, the Nevada Highway Patrol said on Tuesday.
---
8/29/2006
Big Surprise...


Prosecutors Drop Case in Ramsey Slaying. "This case is not closed," said District Attorney Mary Lacy, who planned to further explain her decision at a news conference Tuesday.
Uh huh... sure.


Read the Boulder District Attorney's motion to quash the arrest warrant and other court documents here.
---
8/29/2006
Fugitive nabbed on way to work
Rape suspect wanted in N.C. is arrested at his Richmond home. A fugitive wanted in North Carolina since 1994 on charges of rape, kidnapping and armed robbery was captured yesterday at his South Richmond home.
---
8/29/2006
New charges due in deputy's slaying

A Montgomery County jail escapee charged with capital murder in the death of a hospital guard Aug. 20 could face more charges today.
---
8/23/2006
Down For 2 Weeks
As I close things down for my office and get moved to Wise, I don't think I'll have time to blog here for a while. I plan to come back on 10 September 2006.

Until then, if ya'll are lucky, maybe some of the other folks who have posting priviliges here will take up some of the slack (hint hint).
---
8/22/2006
Another Georgia Inmate Gets a Guard's Firearm
Despite being in chains, he gets the gun, shoots the guard, takes the van - and then is shot by the other guards.
---
8/22/2006
Heroin Dealers Target Kids
"There seems to be a deliberate move to bring the price of heroin down and sell it in smaller quantities. The dealers are also more subtly bringing high school children in by selling it as 'Unga', a smokeable format mixed with dagga."
---
8/22/2006
More Worries About the Ramsey Confession
"There's something going on here that's very strange ... and no reason on God's green earth to assume that this is a voluntary confession."
---
8/22/2006
Only in New Zealand
Rogue pighunters are suspected of "dognapping" two puppies from Rotorua's SPCA.
---
8/22/2006
Meth Madness
Buried in the Backyard.
---
8/21/2006
New Zealand: Home Incarceration
If all those who say they should be in prison are willing to pay for that through their chequebooks rather than mine and many other taxpayers', then fair enough.
---
8/21/2006
Suddenly Everybody's Concerned About False Confessions
Confessions don't mean crime has been solved
Desire for fame elicits false confessions
Midstate officers have their share of wrong confessions
---
8/21/2006
Not Guilty 'Cuz She Didn't Do It
She swears she deposited it, but the money's gone. The bank says its cameras show that no one deposited a bank bag. She's tried and convicted.

A year later they find the bag - right where she said she'd deposited it.
---
8/21/2006
Judge and a Pump = 4 Years
The ongoing saga of the judge who used a pump during a jury trial.
---
8/21/2006
Don't Forget
Scratching a local police car is apparently a federal offense.
---
8/21/2006
Chief Puts Kibosh on Police Parody
Tacoma police chief has no sense of humor (or at least realizes that his bosses won't).
---
8/21/2006
Oprah is a Scam
Oh, wait, that's not what the story says . . .
---
8/18/2006
Curfew Court.
---
8/18/2006
VINE Expanded
Virginia is going to extend VINE to jails. I understand the politics behind this but I've got to wonder how difficult this will be. Serious defendants whom victims would want to keep track of often have charges in multiple counties and are moved between them in a manner which seems almost random at times. Notifying the victim with each move might mean they'd be getting a message every couple days.

On the other hand, if attorneys could use this it would be a wonderful way to know when the jails transfer your client half way across the Commonwealth two days before trial.
---
8/18/2006
The problems with prosecuting someone who is accused of commiting a crime in prison.
---
8/18/2006
Yakuza wear?
---
8/17/2006
The Last "Week in a Life of a Criminal Defense Attorney"
Enjoy.

Note: Names changed all around and facts changed in juvenile cases. The general procedural happenings have been left the same.
---
8/17/2006
A Week in the Life: Monday
I get to the Shire County courthouse at 9:15 because I have a duty day in circuit court. I'm supposed to sit and take any court appointments the court has during pretrials on this date, but I arrive a little early because I intend to find someone to take the duty day (I won't be around to actually do the cases).

As soon as I walk in the door a prosecutor standing out in the general district court (GDC) hall hails me: "Mr. Lammers, this is the place you're supposed to be." Huh? I know I was supposed to have a case today in GDC but it had a prelim for a felony and I wouldn't be able to follow thru. I'd been handing those cases off and thought I'd handed this one off. I quickly look thru my brief case and realize this is a case I tried to hand off twice but couldn't find a taker.

I quickly grab a friend from out in the hall and get him to take my duty in the circuit court. Then I sit down to talk with the prosecutor about the case. Client is charged with speeding 78 in 65 mph zone, driving without a motorcycle license, driving on a suspended license, and felony eluding. The officer says that he was only able to pace my client accurately at 78 but that as my client accelerated away from him. Client accelerated away officer got up to 140 mph before he backed off for safety reasons. Client continued to accelerate. Then he ran out of gas. Yep, you read that right, Client only got caught because he hadn't filled up his tank recently. Of course, then Client tells Officer that he got up to 170 mph. And it turns out he has about 5 other warrants for not coming to court on traffic matters (the reason I couldn't hand his case off is that I couldn't find someone who could cover all 4 of his court dates).

Needless to say, the prosecutor isn't interested in reducing the felony eluding to a misdemeanor. He'll drop the two citations and reccomend ten days for the driving suspended, but of course, we all know that the hens will come to roost a couple months down the line in circuit court. So, I go back and talk to Client for a couple minutes and when I come back out the case is called and everything goes as planned. I snag the same guy I gave the duty day to and get him to take over the felony charge.

I walk over and talk to a prosecutor who will be opposition for my client's show causes on the Tuesday morning docket and ask her to put them at the end of the docket because there was a calendar screw-up and I am scheduled to be in two courts at the same time. She's fine with it, even agreeing to move the cases to after lunch if I run extremely late because I already have a case after lunch.

Then I start the great defense attorney round-the-world trip. From Shire I drive a hour down to Morton II Prison to visit my client who was accused of having drugs in Vangrove Prison in Vangrove County. He chose a jury - they found him guilty and gave him the entire ten years. We have a sentencing hearing the next day to try to convince the judge to suspend some of that time and I got his presentence report at the end of the last week. I drive down to the middle of nowhere and wait 40 minutes for them to find him and usher me into a visitation room in the prison. We go over everything and 45 minutes later I'm back on the road. I had hoped to drive the 2+ hours to get to Entropy Regional Jail but it's gonna be real tight. I doubt I'm going to make it before things get shut down for head count - shift change - supper. I call another attorney who goes to that jail a lot and he volunteers to get a phone conference set up for me; he calls back 5 minutes later and tells me it's set up for 7 p.m.

With that settled, I have time to do something else. About half way back I stop at the City of Carlton's courthouse and go talk to the prosecutor about cases we have in Juvenile & Domestic Court on Thursday. Basically, we agree that most of the cases are going to have to be continued and have another attorney assigned because I am leaving at the end of the month and will not be able to follow up (these cases can go on forever). There's only one case which we think can be dealt with on Thursday and that's a mother who left her 8 and 9 year old kids at home to go play bingo for a couple hours. We agree that 6 months of parenting classes would be the appropriate remedy.

With that I drive back to my office. I eat some supper and cheat a little, calling Entropy Regional Jail at 6:45. They have no clue what I'm talking about. The supervisor tells me that if I'll call back in 15 minutes he'll be happy to go hunt down the two clients I need to talk to. I call back and the man was good to his word. The first conversation goes loooooonnngg because Client is going to trial the next morning and isn't the brightest bulb in the box so concepts we have gone over previously have to be gone over and over until I think she gets them (I hope). The next goes fairly quickly. Client is being sentenced tomorrow on a driving as a habitual offender and has a copy of his presentence report and guidelines. We don't have much to discuss but I always like to touch base before a sentencing hearing. The phone conference ends at about 7:45.

I jump into my car and head out to Lost Hope Juvenile Detention Center. I get there at about 8:15 and ask to see my client.

The 18 year old kid is to be sentenced the next day for felony assaulting staff at a juvenile facility and misdemeanor sexual assault. It was a case wherein, a nurse claimed he and a co-defendant forced open a door, hitting her on her side, dislocating her jaw, and grabbing her in all sorts of sexual areas before she and the other nurse could shut the door again. The nurse's story was full of holes such as there being no way she could be standing where she says she was and get hit in the jaw and absolutely no way these two ladies shoved the door closed against these two large muscular kids. Worse yet, the guard on the scene testifed that she was there the entire time and the kids never, ever entered the room the nurse was in. With the guard's testimony I figured there was no way to find this kid guilty beyond all reasonable doubt; prior experience hsa shown, time and again, that anything a guard tells this judge is golden - EXCEPT, apparently, when the guard testifies for the ward. The judge blew right past the guard's unimpeached testimony and found the kid guilty.

But it gets worse. Co-defendant's counsel, upon learning the result of my client's trial, went with a jury trial. There's a whole lot of back-story to it (much of which I don't know entirely) but suffice it to say on the day the jury trial is supposed to commence things are FUBAR due to paperwork errors, the staff at Lost Hope Juvenile not being cooperative (with the elected prosecutor, no less), and late delivery of the ward to the courthouse. The judge refuses a motion to continue and dismisses the case, laying blame at the feet of the Department of Juvenile Justice. Remember that a dismissal in Virginia is a dismissal with prejudice. Of course, I'm the one who gets to explain to my client that his co-defendant's dismissal had nothing to do with the facts of the case but was a punishment the judge imposed for procedural problems and it isn't going to do him any good. Let me tell you, this was a long, painful conversation.

Finally, some time after 9 p.m. I leave Lost Hope and, finished with the day, head back to my apartment.
---
8/17/2006
A Week in the Life: Tuesday
Tuesday starts a little earlier than most. I meet Steve (the law student who sometimes posts here) at the office so that he can shadow me. Steve's been a police officer in the City of Cockney, a pretrial officer in the suburban County of Shire, and - until about a week ago - he spent the Summer interning at the Shire Commonwealth Attorney's office. Still, he's never really seen things from the defense side and he's never been out to a circuit court in a rural county. I have a full day and it's starting in Vangrove County, which is still about 85% rural (or at least feels like it is); he's going to shadow me.

At 9:00 a.m. court starts in Vangrove. My client is called first but it's not for me; it's so that a "paid" lawyer can move to be taken off another series of charges Client has. He starts by saying he has a "conflict." The judge isn't buying it so he goes further and says he needs to get out because Client has been lying and manipulating him. Wonderful.

After the judge lets the other attorney out of Client's case I get called up to defend her on today's charges: 4 counts of forging a public document (2-10 years each). She's accused of having signed her sister's name on 4 different forms when accused of driving suspended. She's also not the brightest person in the world and she's confused by the other lawyer doing what he did. So, just before the judge asks if the defense is ready she looks at me and asks a question. I look over at her and start to listen but about 5 seconds in I see the judge waving his hand to get my attention and not looking at all happy: "Mr. Lammers, are you ready for court today?" "Yes, Your Honor, she just asked a question." "Right now you're supposed to be listening to me Mr. Lammers." "Yes sir."

Client pleads not guilty to the charges and chooses a bench trial. The judge asks the basic series of rights questions with his special twists. The only thing which hangs up the process is when the judge asks how much time we have spent talking about the case. She tells the judge I've only talked to her for about a half hour total. The judge asks me if that's true and I tell him that we spent 30 minutes on the phone yesterday talking about the case. "Mr. Lammers, I don't need a blow-by-blow, I just need to know if what she said was accurate."

The officer sits on the stand and says that she signed the tickets but never showed up for court. Then, several months later he got a phone call and in response to that phone call investigated and realized who my client was and that she had signed a false name. The prosecutor introduces pictures of driver's license photos of both Client and her sister. I object; the judge over rules me. It comes out that he had dealings with Client between the date of the citations and the date he filed the forgery charges. He didn't act until the phone call (which, as hearsay, cannot come into evidence). I argue to the judge that it's obvious the officer is acting on the phone call, not on his own observations and that there's no one here to prove her sister isn't the person who signed the documents. The judge finds her guilty.

Next comes the kid from Lost Hope Juvenile. His guidelines call for between 2-3 years of imprisonment with a mid-point (usual sentence) of 2 years 6 months. The prosecutor points out his long record of violence and there is a victim impact statement which talks about how the lady had to go thru all sorts of medical treatment and suffered mental trauma. I stand up and point out my client's rather long list of mental issues and as delicately as possible point out that the judge threw out the co-defendants case. The judge was not impressed. He departed from the guidelines and gave him 5 years.

Then comes my client with the felony DUI 3d. His guidelines call for up to 6 months. I call him to the stand and he testifies about how he wants to just get this behind him and move back to Tennessee so that he can go back to work at a plastic factory. I point out to the judge that my client asked to be incarcerated when we were last in court so that he could get his time done and go back home and get his job back. I ask the judge to only impose the mandatory 100 days. This time the judge agrees and sentences client to 100 days. He also tells my client that if he leaves Virginia he won't have to report to a probation officer.

Finally comes the client who was sentenced to 10 years by the jury for possession of drugs in the prison. His guidelines (which the jury was forbidden to see) call for 3-6 months. The prosecutor basically stands up and asks the judge to affirm the sentence the jury has put forth. I stand up and argue that the only reason our jury system is even considered constitutional is because a judge has the ability to correct jury sentences which are so far out of the norm as this and ask him to suspend all but the time recommended by the guidelines. Then the judge asks Client if he has anything to say before he is sentenced. Client pulls out a sheaf of folded papers from an envelope.
Yes sir, I feel like there was something that wasn't brought out in my trial. At first they wouldn't give my attorney the tapes from the cameras in the section. Then the prosecutor told my attorney that the cameras were fake and therefore there were not tapes. Then during the trial they testified that the cameras weren't on when they came in to get me. This was never explained and that tape would have proven me innocent.

And then there was the letter from the warden to the prosecutor which said that my prison case number was one number and the other documents which showed the number to be a different number. They said that was a mistake but it wasn't explained.

And then . . .
At this point the judge interrupts:
Mr. Smith, you realize the decision in your case has already been made. We're not here to retry your case. You can press those issues during an appeal.
At this point Client stops talking and folds up his papers.

The judge gives a short speech wherein he allows that everybody knows there are drugs in the prison and that he might not have given such a heavy sentence (translation: he doesn't give heavy sentences for this sort of thing and often even goes below guidelines). Still, Client took his chance with a jury and knew the risks because the reason he is in prison for 15 years is that a previous jury he took gave him that sentence. However, "in this case I think the jury was a little too harsh. I'm suspending 5 years of the ten year sentence."

I stand up and start to make an objection based upon the fact that statistics show that juries aren't allowed guidelines, they oversentence, and judges do not correct the oversentencing thus rendering the sentencing scheme in Virginia unconstitutional because it punishes citizens for taking a jury trial by threatening them with harsher sentences for doing so.
Mr. Lammers, if you want to register that objection you can do so in writing. I'm not going to hear an oral objection now.
And thus ends a morning at Vangrove. We walk out of the courthouse and Steve looks like he is in absolute shock. I'm just pushing to get to the next courthouse.

We zip down the road and 45 minutes later we get to Shire courthouse. When we get to the circuit court there is still one case left prior to my 3 showcauses. I talk to the two clients who are coming to court from the street and then go into the back and talk to the one client coming from jail. Then my cases are called.

The first kid is there to show cause why he shouldn't get some of his suspended time imposed because he got a DUI-D. I put him on the stand and he testifies about how he has gotten back on the methadone treatment and that he's trying to get his own gardening service going. The judge tells him that he remembers being told the same thing the last time Client was in court and gives him 6 months in jail.

The second is a lady who is there to show cause because she failed out of the same drug program the second time (the last time he sent her back). She goes up to testify and it's going okay until she says, "I think this program has saved my life. I'm drinking a lot less now." As you might imagine, that went over like a lead balloon. Still there's not much time the judge can impose so he only gives her 30 days.

The third is a man who never reported to his probation officer when he got out of jail the last time. He testifies that he has learned his lesson. The judge remembers that he heard the same thing last time Client had a show cause (for exactly the same thing) and gives him a year in jail.

That ends the morning

In the afternoon it's back to Shire Circuit Court. Client is charged with possession of a controlled substance and failure to appear in court. The office testifies that he went into the city of Richmond in plain clothes. He sat at a gas station just inside the city boundary and was approached by someone offering to sell. They go to Client's apartment, in the city of Richmond, and Client calls someone to sell them drugs. They go to the dealer's apartment in Richmond and get some drugs. Then they go back to client's apartment and the arrest is affected - in Richmond. I argue that it has to be thrown out because the court doesn't have jurisdiction over Richmond. The prosecution argues that jurisdiction is under Code section 19.2-250. The problem with that is that whoever wrote the statute went out of his way to make it as arcane as possible.
[T]he jurisdiction of the authorities of a county adjoining the City of Richmond and having a population between 209,200 and 209,500 or a county adjoining the City of Richmond and having a population between 217,800 and 217,900, according to the 1990 census, in criminal cases involving offenses against the Commonwealth, shall extend one mile beyond the limits of such county into the City of Richmond.
That's right, instead of just naming the two counties which border Richmond the General Assembly thought it would be a good idea to make the prosecutor have to prove a particular county's census statistics in order to prove jurisdiction. Of course, the prosecutor has not done this (who would?) and we get in an argument over whether the judge can take judicial notice of census statistics. The judge is dubious of the prosecution's claim that he can and orders a brief. Then the judge and I get into an argument as to whether the failure to appear charge should fail if there was no jurisdiction on the original charge. The judge keeps saying, "They had authority to arrest him (not sure what he was basing that claim upon) and therefore he has to appear in court or get a failure to appear." I keep saying, "This court had no jurisdiction to call him before it and therefore he cannot be convicted of not showing for a case because the court couldn't require him to be here." We go a few rounds and the judge orders me to brief that. The judge orders argument for 31 August 2006, the day I am supposed to leave for Wise County.

And thus ends Tuesday.
---
8/17/2006
A Week in the Life: Wednesday
This morning is all about Midland Juvenile Court. It's a multi-party, multi-charge case which has racial overtones - or maybe it was just a fight between a bunch of yahoos at the local high school. There are 5 black kids and 3 white kids and depending upon whom you listen to it was either racial or just two kids who don't like each other dragging their friends into a fight.

Here are the facts as people other than my client seem to have pieced them together. My client is a 17 year old young black man who is on the Midland High baseball team. He's well spoken, intelligent, looking toward college, and has a Dad who is going to kick his rear if anything like this ever happens again. The problem is, he and a 16 year old white kid have disliked each other for years. My client is walking down the hall and he and the white kid pass each other. The white kids says the unsayable word and Client kicks him in the shin. White kid's BIG white kid friend steps in and tosses Client into the wall. Client gets up and tackles Big white kid and the melee commences. When it's all over the only person hurt is Big white kid who has a hairline fracture in his arm.

Everybody gets charged with disorderly conduct and assault and battery. Client and a couple other of the black kids get a malicious wounding charge. Or at least that's what they would be as adult charges. Since they're minors the charges are actually civil in nature. Anyway, the prosecutor is offering the same deal to everyone: all charges dismissed except for the disorderly conduct and everybody does 50 hours community service and goes to life training classes. He'll drop the other charges. All the attorneys try to talk him into just asking the judge to take it under advisement (hold the final finding in abeyance) and have it go away after the community service but he won't go that far. All-in-all, it's not a bad deal and everybody agrees to it.

Then we go into court and the deal is explained to the judge and everyone pleads guilty. Then the judge asks for commentary. The juvenile probation officer opines that perhaps this would be better taken under advisement. That's enough to set the first lawyer off, asking for the same thing. The judge interrupts and says he is inclined to go with the plea agreement and not give something that the prosecutor has already refused to agree to. The lawyer replies that he never spoke to the prosecutor about advisement, which might technically be true since I can't specifically remember him saying anything when all the lawyers were standing in a group out in the hall talking to the prosecutor about it. One by one the lawyers have their say and a couple others try to talk the judge into taking it under advisement. In the end it was a lot wasted hot air because the judge does exactly what the plea agreement called for.

Then a someone points out that after a period of time they can come back and petition for the removal of an adjudication of a misdemeanor event anyway. The judge agrees and offers to set a hearing date two years in the future to see if he can be persuaded to do that. However, he points out, he will hold every lawyer to that date - no not coming to court because no one has paid further fees. I raise my hand and the judge smiles, "Of course, Mr. Lammers won't be around to come to our little get together." I huddle with Client and parents and they aren't really interested in coming back anyway because (hopefully) Client will be off in college by then. Three of the other lawyers actually set hearing dates for two years in the future (one of them over the parent's objections that by that time their kid will be 18 and it won't matter).

Next I drive to Shire county courthouse, eating a fast food meal on the way so that I can get to my 1 p.m. case - an event which happens far too often.

In Shire I have a case where a lady is charged with having her house as a common nuisance (allowing drug deals), conspiracy to distribute marijuana, distribution of marijuana, and distribution of cocaine. The prosecution has given me the statement the police officers are going to say she gave: "John (boyfriend) sells marijuana and gives me money to help pay the rent."

Client pleads not guilty across the board. The first officer comes to the stand and testifies that they came to the house with a search warrant based upon a buy a confidential informant made from John. The officer testifies that Client said, "John sells drugs and gives me money to help pay the rent." Aw, crud.

I try to cross the officer on this and the other officer who was there but whenever I try to ask the officers if my client said she knew John was dealing cocaine the prosecutor objects on hearsay grounds. I point out to the judge that this falls within the "opened the door" exception wherein evidence which would be normally not allowed into evidence becomes admissible because of one party introducing certain evidence. This exception is most relevant when a party introduces excerpts of a statement and most judges will allow you to cross about other statements made, or not, at the same time to establish the parameters of the inculpatory statement. However, this judge is having none of it.

The judge tries to explain why she wasn't allowing me to ask the question, but I'm not getting what she's saying. This is a very smart judge so I'm fairly sure the disconnect was on my side. She was either telling me that the "opened the door" exception would only allow me to ask inculpatory questions or she was rejecting my question because it was inculpatory. I still don't know which. However, sometime in the second go around the judge and I are having on this she states that my client has only admitted knowing John dealt marijuana and she's not sure what I'm even trying to accomplish. I realize that at least part of our disconnect is that the judge "heard" what the officer was supposed to say, not what he actually said. I immediately sit down and shut up.

Client is convicted of the charges of maintaining a common nuisance and conspiracy and distribution of marijuana. However, the judge finds her not guilty of the nastiest charge - distribution of cocaine. Our trial was the last of the day and the judge leaves the bench after giving me a look which can only be described quizzical annoyance. And, in all fairness, she probably had an understandable reason for that. For a good portion of the case I fought with her about a point of the evidentiary common law and we were obviously on different wave lengths. Then, all of the sudden, I dropped it all and sat down. It had to look a little strange from her side of the bench.

And thus ended Wednesday.
---
8/17/2006
A Week in the Life: Thursday
Today should have been pretty easy - only a morning docket. Yeah, right.

I go out to the City of Carlton to do a morning of duty in the juvenile and domestic relations court. I have 4 cases this morning but only one of the clients has contacted me. I find out why when I get to the courthouse. The clerk of court has been dutifully giving out my card to each person as I was assigned to defend him or her. The problem is that the clerk has been giving them cards from 6 years ago when I had an entirely different office and phone number. As you can imagine, there are a number of people who very badly want to conference with me when I get to the courthouse. And I even find out there were two people assigned to me whom I never received any notice about. I go into scramble mode and by the time my first case is called have most of it figured out.

The first case is a kid charged with stealing a car and failing to come to court on his first trial date. I move the judge to remove me from this case because it is just starting, juvenile cases tend to run for a while, Client is not being held in a detention facility, and I'm leaving at the end of the month to go to Wise County. The judge doesn't agree. He states that this case has been pending since December of last year and we're trying it today. So we put it on. Client pleads not guilty to both charges. The prosecutor puts on someone who testifies he saw Client take the car. Then prosecutor puts on the officer to whom Client confessed. About 2/3rd of the way thru the officer's testimony the judge interrupts:
Mr. Lammers, what are we doing here? This case is a slam dunk. Unless you've got some magic defense I don't see?
I don't and it would probably be rude to point out to the judge that I am not the one who decides whether my client will plead guilty or not guilty. Anyway, I ask for a minute to talk with Client and after a couple minutes of whispering back and forth he changes his plea to guilty on the theft charge. The funny thing is, had the judge let the officer finish his last couple sentences we'd probably have finished faster than we did after the judge interrupted. Oh well. We go back and forth for a minute or two about why he missed court last time but the judge dismisses after it becomes clear that Client wasn't in court because his parents would not bring him. Then the judge starts asking why Client isn't in a detention facility because of 6 similar charges he's facing in the City of Farway. The juvenile probation officer points to the fact that Client is in a halfway house, going to school, and attending certain programs. This seems to mollify the judge. Finally, the judge transfers the case to Faraway court to be dealt with by the court which has most of his charges and removes me from the case.

The next case is a guy who got in a fight with his little brother. Guilty plea - time served.

Next is the guy whom I didn't know I was representing until I came to court this morning. He's charged with fighting with a 17.5 year old at minor league ballpark (I guess they were rooting for opposing teams). Anyway, it's a citizen complaint and Client has been in jail for 2 months waiting for his day in court. However, the witnesses weren't subpoenaed. The prosecution moves for a continuance. I object, pointing out that Client has no bond (with 13 prior failing to appear convictions it's just not going to happen) and has served more time than he'd get on an A&B already. The judge continues the case. Realizing that Client should have a quick date he asks me if I'm available for the next Thursday.
Well, Your Honor, I have circuit court in Shire at 9 a.m. but if I come here first and this case is called first I can do it.
So the judge sets the case for 9 a.m. the next Thursday.

Next called is a 19 year old guy charged with several misdemeanors all of which basically amount to stalking a 17.5 year old girl and felony solicitation of sodomy; on the misdemeanors it's the trial date and on the felony it's a preliminary hearing. I tell the judge from the beginning that we are pleading not guilty to the misdemeanors but aren't going to put on any defense today because we anticipate appealing them with the felony when it's sent to the circuit court for trial. The prosecutor calls the girl as a witness and she testifies about various things client supposedly did and how he came over her house and while they were sitting around smoking cigarettes he asked "When can I have some?" I move to strike the felony for lack of evidence and the judge does. Then he finds Client guilty on the misdemeanors and sentences him to 6 months in jail. I ask for the appeal bond to remain the same as the original bond, pointing out that now there are just misdemeanors when before there were misdemeanors and felonies. The judge increases Client's bond and puts him in the custody until bond is paid.

Next called is a father who left his 7.5 year old kid at home while he went to play poker for a couple hours. When he came back at 10 p.m. (totally sober) the police had been called by a neighbor who saw the kid riding his bike and were waiting for him. The prosecutor has agreed that this guy should get parenting classes and after a year have the charge dropped. Unfortunately, Client has not come to court. The case is continued and the judge removes me after joking for a couple seconds about why I wouldn't want to drive back the 6 hours from Wise to enjoy the beautiful City of Carlton one last time and get my $120.

Finally, there is an initial detention hearing. Client is a 16 year old girl who has been kicked out of her home for stealing and keeps getting kicked out of everywhere she finds to live for the same reason. There's not much I can do and she is held. Then the judge goes to set a full detention hearing and suggest the next Thursday at 11:00. Hmmm . . . time to gently remind the judge that I really am not available that day.
Me: As you'll recall, Sir, I have circuit court in Shire that morning.

Judge: Oh, that's right. Well, then we'll set this at 9 a.m. when you're here for the other case.
Huh?!? Well, that's going to make scheduling next Thursday all sorts of fun.

And thus ends my Thursday in court.
---
8/17/2006
A Week in the Life: Friday
The only thing I have to do Friday is cover a 10 minute bond hearing for a buddy in the City of Pattersonburg. I don't usually go to Pattersonburg, so it's a bit of an adventure.

I get there at 10:30 and first go to the wrong courthouse (JDR). After I figure that out I get to the right building and go in back to tell Defendant what we're doing for the bond hearing. Along with about 6 other defendants, he's got something like 4 robbery charges, 6 illegal gun charges, and a couple abductions; however, there are serious flaws in the prosecutor's case so the court has been setting bonds between $5,000-30,000.

Pattersonburg has everybody in a cell together. Defendant has to walk up to the bars and talk with me. I hate this kind of setup because (1) everyone in the cell strains to hear your conversation and (2) there is always some yahoo in the cell who is quite willing to voice his opinion that the attorney is full of crud and selling Defendant down the river. It doesn't matter too much because, with the help of the local PD office's investigator, the prosecutor agrees to a $5,000 bond. Defendant's mother is in the courtroom during the bond hearing, but I don't point her out to the judge because the judge had a pretrial hearing for her 15 minutes before Defendant's bond hearing. The bond hearing goes smoothly. The only gripe I have is that the case is called 2 hours after the time it is set and I get to spend most of that time just twiddling my thumbs.

Ah, the joys of Pattersonburg courts. There's a reason I don't practice out there too often.

And thus ends Friday.
---
8/16/2006
I Didn't Know the Chaplain Had a Police Car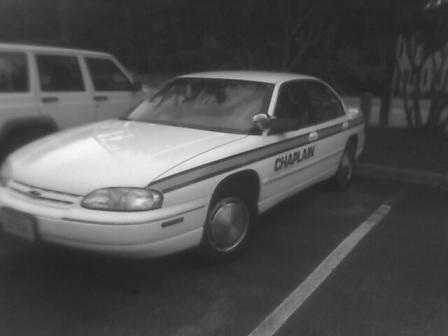 Sorry it's in black and white. Honest, I swear I'm not trying to go artsy on ya'll. I was just messing with the settings on my new phone and forgot to put them back to color.
---
8/16/2006
Letter For Clients Deciding to Appeal
I started to reinvent the wheel and then remembered that I had already posted this previously.

Read the comments as well. They provide some good suggestions.
---
8/16/2006
How does Skelly Find these things?
A PD's intercepted IM with a friend about a difficult client.
---
8/16/2006
Tomorrow: The Last Week in a Life
If I can get it done in time. It's looooonnngg folks.
---
8/15/2006
Felony Letter to Client
Before trial in Virginia a judge asks the defendant several questions on the record to make certain that he understands his rights and is prepared to go to trial. A certain percentage of clients will swear to the judge that their attorney didn't tell them anything. Sometimes this is because they didn't understand, sometimes it is because their minds blank when they're on the spot, sometimes it's because they are playing games.

In any event, one day after two clients back-to-back did this to me, I finally got to the point (about 8 months back) that I developed this letter in order to have a record that I had explained to each client what is going on. It's not meant to take the place of an in person visit; it's just supposed to head off client saying he was never told this or that.

I'm at home and this is a draft that I have on my thumbdrive. The actual letter was polished a bit more and is on the secretary's computer at the office. Still, I think this beta version pretty much hit all the points.



+++++++++++++++++++++++++++++++++++++++++++++++




Good Day,

You have been charge with the following felonies:

Case Number . . . . . . . . . . Charge . . . . . . . . .Class
XXXXXXXX . . . . . . . . . . . .XXXXXX . . . . . . . . .XXX
YYYYYYYY . . . . . . . . . . . .YYYYYY . . . . . . . . .YYY
ZZZZZZZZZZ . . . . . . . . . . .ZZZZZZZ . . . . . . . . ZZZ

Felonies carry the following possible penalties:

Class . . . . . . . . . Imprisonment . . . . . . . . . .Fine
6 . . . . . . . . . . . Up to 5 years . . . . . . . . . Up to $2,500.00
5 . . . . . . . . . . . Up to 10 years . . . . . . . . .Up to $2,500.00
4 . . . . . . . . . . . 2-10 years . . . . . . . . . . .Up to $100,000.00
3 . . . . . . . . . . . 5-20 years . . . . . . . . . . .Up to $100,000.00
2 . . . . . . . . . . . 20-life . . . . . . . . . . . . Up to $100,000.00
1 . . . . . . . . . . . Death or life in prison . . . . Up to $100,000.00

In most cases the judge can suspend part or all of the time imposed. However, in some cases, particularly firearm charges, there will be time which the judge cannot suspend.

Trial Procedure

1). Pretrial Hearing

At this hearing the judge decides whether or not you should have bond. The judge also determines whether you need a court appointed attorney.

2). Preliminary Hearing

At this hearing the judge is going to decide if there is enough evidence for a trial in your case. You will not plead guilty or not guilty.

Prior to the preliminary hearing the prosecutor may offer a plea agreement reducing the charge to a misdemeanor. This is entirely the choice of the prosecutor. I cannot force the persecutor to offer a plea agreement. If the prosecutor does not offer to drop the charge to a misdemeanor the judge cannot decide guilt or innocence on a felony. He will only decide if there is probable cause to go to trial; this means if there is any reason to think you might be guilty the judge will send the case to trial (even if the prosecutor cannot prove the case beyond a reasonable doubt). Because he does not have to prove his case beyond a reasonable doubt the prosecutor my not present all his evidence, just enough to get the judge to allow a trial.

3). Docket Call

This is your first day to appear in Circuit Court. On this day the judge will tell you when your trial date will be. Unless I send you a letter with your court date and telling you that you do not have to come t court or you are in jail, you must come to court for this hearing.

4). Trial

This is the day upon which a judge or jury shall decide if you are innocent or guilty.

a). Bench trial ("judge trial")- a bench trial usually proceeds like this

I). Not guilty plea- You will stand next to me and the clerk will read the charge. You will plead "not guilty". The judge will ask if you want a trial by jury or by the judge. You will tell him you wish to have a trial by "judge". The judge will then ask you questions to determine if you understand the charge and are pleading not guilty without someone forcing you to plead not guilty.

The prosecutor will present his evidence first. Some evidence will be paperwork or pictures or physical items (like a pistol). Many times there will be a witness. The prosecutor will question the witness first. I will then question the witness. Finally, the prosecutor will question the witness again.

After the prosecutor has finished I may ask the judge to throw out all his evidence. After that we can present evidence on your behalf. Usually, this will be mostly witnesses. This time I will ask questions first. The prosecutor will then ask questions. I will get to ask the last questions.

After we have presented our evidence, I may again ask the judge to throw out the evidence. Then the prosecutor will make his argument about why he believes you should be convicted. I will then give the reasons you should not be convicted. Then the prosecutor will get to make a final argument. After that the judge will decide whether he believes you are not guilty or guilty.


II). Guilty Plea- You will stand next to me and the clerk will read the charge. You will plead "guilty".

The judge will ask you several questions. Many of them will basically be "has anyone forced you to plead guilty?" He will also make sure that you understand that by pleading guilty you will waive the following.
1). The right to a jury
2). The right to appeal
3). The right to cross-examine witnesses
4). The right not to testify about this case
5). The right to present a defense
Different judges will ask other questions. They will usually want to know if you understand what the prosecutor has to prove and if we have talked about the case. He may also ask you if you understand what the sentencing guidelines are, that he, the judge, is not required to follow them, and the maximum sentence you could receive.

If there is a plea agreement the judge will ask you if you understand he is not required to accept it. If he does not accept it you will have the option of withdrawing your guilty plea and going forward to trial or proceeding with a guilty plea without the plea agreement. The judge will sometimes ask you what you are getting from the plea agreement.

After the judge has finished asking you questions, the prosecutor will summarize the evidence. The judge will then ask me if I agree the evidence would be sufficient for a conviction. After that the judge will make a finding of guilt and schedule a sentencing hearing. If there is a plea agreement the judge may accept the terms of the agreement, reject the plea agreement, or wait until after a presentence report to make that decision on the date of a sentencing hearing.

b). Jury Trial- Should you take a jury trial? I prefer jury trials. However, because of the way juries operate in Virginia, I can almost never recommend a jury.

It is my opinion that in most cases is more likely to find someone not guilty than a judge. However, this will vary depending on the location. It is commonly thought that a jury in a city, such as Richmond or Petersburg, is less likely to convict than a jury from a city like Colonial Heights, suburbs like Chesterfield or Henrico, or rural counties like Hanover or Amelia. As well, it is impossible to predict exactly who will be on any jury and how they will vote. Remember, just because a jury is more likely to find you not guilty does not mean it will find you not guilty. If a judge is 90% likely to find you guilty a jury may only be 80% likely to find you guilty, therefore, a jury is still probably going to find you guilty. On the other hand, jurors finding fresh point of view to a trial and may believe something a judge would not or put less faith in the statements of police officers.

The main reason that I cannot recommend a jury trial is because juries sentence in Virginia. This is different from most other states and is the reason most people do not take a jury in Virginia. Year after year, the Virginia Sentencing Commission report that juries sentence harder than judges. I believe this is for 3 main seasons. First, juries cannot suspend time. For example, if you were convicted of a class 3 felony the jury must sentence you to at least 5 years, a judge could suspend past of that 5 years (all felonies except class 5 and 6 have mandatory time like this). Second, the jury is forbidden by Virginia law from seeing the sentencing guidelines. This means that while a judge will have an idea as to what an appropriate sentence is the jury will not. Third, jurors are not people used to sentencing people whom they believe to have broken the law. In other words, a judge may have sentenced 20 people and one on grand larceny charges, 40 people on possession of a drug, in the last week. The judge may not think too much about sentencing another felony. The jury has only seen one case and it has nothing to compare it to. The only thing they will have are copies of any prior convictions because the prosecutor is allowed to show them your convictions during the sentencing hearing.

III). Jury Trial Procedure- Come to trail in nice, conservative clothes. If you are incarcerated and cannot get clothes contact my office and we will try to help you.

Before the trial you will be brought out and asked how you plead. You will say "not guilty". Then you will be asked if you want a judge or jury. You will say "jury". Then the judge will ask you some questions to make sure you understand what you are doing. The potential jurors will then be brought into the courtroom. Of these at least 20 will be called and sit in the jury box. The judge will then ask them some basic questions to make sure they are qualified for jury duty. Then the prosecutor will get up and ask some questions. After the prosecutor, I will ask the potential jurors questions. After the questioning, a potential juror may be thrown off the jury "for cause". However, this is unusual and a juror must be proven hostile before being removed; court do not like removing people for cause.

Next will come peremptory strikes. The prosecutor will mark one name from the list of 20. The list will be handed to me and I will strike one name. The list will be handed back and forth between the prosecutor and me until we have removed all but 12 names from the list. If you have anyone you want off the jury make sure you tell me before we mark names off. All the potential jurors will be released except for the 12 who are now the jury. Next are the opening statements. The prosecutor will get up and tell the jurors what he thinks will happen in the trial. Then I will get up and tell the jury what I think will happen in the trial. Remember, the opening statements are not evidence. They are just statements of how both sides hope the trial will go.

The prosecutor will present his evidence first. Some evidence will be paperwork or pictures or physical items (like a pistol). Many times there will be a witness. The prosecutor will question the witness first. I will then question the witness. Finally, the prosecutor will question the witness again.

After the prosecutor has finished I may ask the judge to throw out all his evidence. After that we can present evidence on your behalf. Usually, this will be mostly witnesses. This time I will ask questions first. The prosecutor will then ask questions. I will get to ask the last questions.

After we have presented our evidence, I may again ask the judge to throw out the evidence. Then the prosecutor will make his argument about why he believes you should be convicted. I will then give the reasons you should not be convicted. Then the prosecutor will get to make a final argument. Then the jury will go into the jury room and decide if you are guilty or not guilty.

If the jury finds you not guilty the trial is over. If the jury finds you guilty there will be a sentencing hearing.

The sentencing hearing will go much like a mini trial. There will be an opening statement by the prosecutor followed by my opening statement. Then the prosecutor will put on his evidence; in most cases this will be the prosecutor reading any convictions to the jurors in a dramatic way. I will put on any evidence we have. I will not usually put a defendant on the stand because if you say anything which the Court of Appeals can read as an admission, such as "I'm sorry") you can lose your right to an appeal. Then the prosecutor will argue to the jury, I will argue to the jury, and the prosecutor will make the final argument to the jury. Then the jury will go back, decide the sentence, and come out and announce it.

One thing to remember: in Virginia both the prosecutor and judge can ask for a jury, even if you do not want a jury. The only way to keep the prosecutor or judge from having a jury trial is to plead guilty; if you plead guilty you must be sentenced by a judge.

5). Sentencing Hearing- If you are found guilty there will be a sentencing hearing.

a). Presentence Report- Prior to the hearing you should be interviewed by a probation officer. He will write a presentence report telling the judge about your life and your criminal record. Remember, the judge will read this report before we have the sentencing hearing, it will be his first impression. If there are problems in your life, or responsibilities you have, or things you have been doing to improve yourself, or future plans, or anything else you think might help you if the judge knew about them tell the probation officer about them so that he can include them in the report. There is no guarantee the probation officer will put it all in but you should try.

b). Sentencing Guidelines- The probation officer will also fill out the official sentencing guidelines; any guidelines I, or anyone else, have done for you are estimates the one from the probation officer is the one the judge will pay attention to. The guidelines are based up what you have been convicted of in the trial and your prior record. Every prior conviction will increase the recommended sentence, but some will increase it more. If you have been convicted of a violent felony in the past it will add quite a lot of time to the recommendation. The recommendation will have a low end, a high end, and a midpoint. For example: a recommendation could have a low end of 5 years, a high end of 7 years, and a midpoint of 6 years. Most of the time the judge will sentence within the guidelines and quite often the sentence will be the midpoint. However, the judge is not required to sentence within the guidelines. He may sentence lower or high than the guidelines and you cannot appeal the face that he did not follow them.

c). The Hearing- The prosecutor will provide any evidence he has. I will provide any evidence on your behalf. We will then argue about what sentence you should get and the judge will decide what sentence to impose.

If you were found guilty and sentenced by a jury the judge can suspend part of your sentence during a sentencing hearing. However, the Virginia Sentencing Commission reports every year that judges do not often do this and that on those few occasions when they do they do not reduce it as low as the guidelines recommend.

6). Post Trial

a). Motion to rehear- If evidence is found within 21 days which could not possibly have been found prior to the trial there can be a motion for a new trial. Evidence which would not possibly have been found is usually scientific (DNA).

b). Appeal- Within 30 days of the sentencing hearing you have a right to appeal unless you pled guilty. Appeals take a long time and sometimes years. The Court of Appeals does not have to listen The Court of Appeals is more interested in the law than the facts of your case. If the appeal is based on the judge (or jury) deciding to believe the policeman instead of your mother the Court of Appeals will probably not take your case. If the appeal is because the judge decided, despite my argument and over my objection, to not allow your mother to testify it is more likely the Court of Appeals will listen to the argument

c). Habeas Corpus- You can petition the Court within 2 years of your sentencing or one year of your appeal being denied for a right of habeas corpus. I cannot represent you in this and recommend you speak to another lawyer before filing one of these.

7). Remember, in a trial there are 4 choices which are your alone to make:
1). Do you want an attorney? You have already decided to have an attorney or I would not be your attorney.
2). Will you plead not guilty or guilty?
3). Will you have a jury trial?
4). Will you testify?
I can tell you what I think you should do but you will always make the final decision.

Hopefully, this letter will help you understand what is going on in your trial. If you have any questions please do not hesitate to make an appointment to come by the office. If you cannot do this please remember that my office takes collect calls on Wednesday from 9 a.m. to noon.

Respectfully,



Ken Lammers Jr., Esq.
---
8/14/2006
Coming Thursday: The Last "Week in A Life"
Tuesday will be the letter I send to every client charged with a felony.
Wednesday will be the letter I send to each client who has decided to appeal a case.
---
8/14/2006
Old Notes Forgotten
I pick up an old pad which has been sitting in a corner of my office and look at the notes on the front:

8th on docket

Maxwell - - - Haverstock - - - Bailey
crystal glass
tap water & Styrofoam


I have absolutely no clue as to what any of that refers. Ah, the joys of cleaning out the office.
---
8/14/2006
Kentucky, Politics, and the Courts
Well, the decision I talked about Friday came in.

Basically, the judge punted and came down with what might be the worst of all possible rulings. The case cannot go forward because a governor cannot be prosecuted while in office unless first impeached. However, the indictments aren't dismissed, they are merely held in abeyance until the governor is out of office.

So now anybody can indict a Kentucky governor at any time and the indictment will sit and wait for him to finish his term in office.
---
8/14/2006
You Can't Execute Me . . .
. . . because all 40 of my relatives (which you are required by law to accommodate) can't watch my execution.
---
8/14/2006
New Zealand Sentencing Council
New Zealand is going to set up a sentencing council to put forth guidelines to help deal with the increasing number of prisoners, uneven sentencing, and sentencing creep.
---
8/14/2006
Explain Your Death Penalty Pardons
In a federal civil case former Governor Ryan (Illinois) is going to be forced to explain why he overturned every single death penalty in his State.
---
8/14/2006
South Dakota
Dealing with a death penalty volunteer.
---
8/14/2006
Defending a Decision Not to Prosecute
A Santa Fe prosecutor explains why an aggravated burglary charge is being dropped.
---
8/14/2006
Police Handling a Woman With a Knife
Follow this link to a video of a lady crashing her car into a police vehicle and then coming after the police with a knife.
---
8/13/2006
New York = Yankee
Sorry, but by self definition, if you are in NYC, you are a Yankee. After all, the team is the New York Yankees.

Still, you can take heart in the fact that you aren't from further North-East. Worse terms are used around here to describe them ther folks. I've even heard the dreaded "L" word used.
---
8/13/2006
San Fran Officers Sue for Uneven Punishment
Remember the fuss about San Fran officers posting video skits making fun of the way they are percieved? If you don't then watch this.

The officers were punished and now they're suing. Not because they were punished - because officers of Asian descent weren't.
---
8/13/2006
Will there be anything for me to do?
Y'know, judging from the news reports, by the time I get out to Wise there may be no criminals left.
---
8/12/2006
Officer Down
Officer James Sears was killed in a police pursuit of a guy who appears to have run because he was facing the mandatory year for driving with a revoked license. Not much more news available.

I have had cases with Officer Sears several times. He seemed a decent person and a good officer. He will be missed.
---
8/11/2006
Kentucky: Politics & the Courts
Last month I ran a three part series titled: My Old Kentucky Home - Bare Knuckle Politics & the Courts (One, Two, & Three).

Today we find out if the judge is going to throw out the charges. From the news articles, there are six arguments for dismissal. The one causing the biggest fuss is the claim that since this statute has never been enforced before it shouldn't be this time. I must admit, as much as I think acts on both sides are politically driven, I wouldn't want to be arguing that a prosecutor exercising his choice as to whom he shall prosecute under a valid statute is grounds for dismissal. Another ground is the Chief Justice's footnote which seemed to say that the remedy for gubernatorial problems is impeachment and until impeached a governor can't be prosecuted. That may be precedent or dicta but it sure is radioactive. No judge with an ounce of political sense is going to touch that unless someone holds a gun to his head and forces him. I shan't comment on whether the indictments are proper, the statute is void for vagueness, or the record has sufficient indicia of criminal intent to make it past a motion to dismiss except to say that the first two are pretty much boilerplate and the third is something I would expect a judge to want a jury to decide - I don't know the facts, statutes, or case law well enough to opine beyond that.

What might prove the most interesting is the argument that the statute of limitations has kicked in and the case cannot go forward. This kind of argument is always interesting because it basically provides the judge with an out. Depending on what the judge chooses as the last act the statute may have run or it may not. In your basic criminal case the judge will bend over backward to find a reason the statute has been tolled or a continuing act. Of course, this is not your basic criminal case (how many of ya'll have filed a 47 page motion in misdemeanor court?).

I can't find the Governor's motion to dismiss, but here's the AG's reply.
---
8/11/2006
Put 'em on TV
Forget timely release of oral arguments - there's no valid excuse for not televising the Supreme Court (C-Span 4: The Quatro). For that matter, there's no valid excuse for not televising all trials (except those involving accused minors).
---
8/11/2006
Hacking 3.1 Million Bankers
If you're British and use HSBC you should probably know about this.
---
8/11/2006
Shouting Down the Anti-Gang Initiative
In Minneapolis locals shouted down the Mayor's anti-gang initiative.
---
8/11/2006
Taxi Wars
---
8/11/2006
Zero Tolerance Failing?
Y'know, I'm not all that worried that it makes kids more anxious. That's just a realization that actions have consequences. However, I must admit that I find the part about it promoting misbehavior strange. I guess it could mean that some kids are purposefully trying to get kicked out of school or that ones who make stupid mistakes (Bobby made a peanut butter sandwich and accidently set the butter knife in his lunch pale) will try to hide them rather than owning up.

Don't get me wrong, I think zero tolerance policies are overbroad and lazy. If a school treats the kid who brings crack and the kid who brings aspirin to school the same it's a school which is failing to be responsible. That said, the few times I've had dealings with this sort of thing I've seen a lot of common sense applied under the table. High school principals don't want to throw out a kid who accidently puts the butter knife in his lunch tin after he makes his PB&J sandwich for school. Just as long as there isn't a lot of publicity about it they are willing to use their common sense.
---
8/10/2006
Goofy Letter = Not Attorney
I've seen any number of vaguely threatening and goofy letters from people who are attorneys. So, what's the giveaway that the person writing the letter isn't a lawyer?
---
8/10/2006
Off Point:
You Will Go To Lunch With Opposing Counsel
If a judge orders it, you must comply.
---
8/10/2006
New Zealand: Marijuana for the Kids
No, you cannot support your kids thru your marijuana sales.
---
8/10/2006
Killing Morehouse Student "In God's Name"
I seem to remember some sort of rule about this sort of thing. As I remember it it starts "Thou shalt not . . ."
---
8/10/2006
Catching the Bad Guy
Being the Bad Guy
If you help capture the guy who broke into a store it doesn't mean you can go in and help yourself to a reward.
---
8/09/2006
New CrimBlawg


Prosecutor Post-Script by Sarena Straus, a Yankee prosecutoress. Yankees, they're everywhere - whatya gonna do?

All kidding aside, it has well reasoned analysis on a variety of issues from the point of view of someone who has spent time in the courtroom. I'd start by reading this post about the problems that have manifested in abuse of minor cases and why.
---
8/09/2006
Law and Misbehavior
1) A drunken lawyer.

2) Officers abusing the criminal records system.

3) A judge having a gallery full of the defendant's family yell a football cheer. A second gets in trouble because he wants proof before he'll let people wear head gear in his court for religious reasons.

4) Probation officer sleeping with his parolee.
---
8/09/2006
Rabbit Rabbits
With a nickname like "Rabbit" and a history of escapes in the 80's and 90's you gotta think he might try again.
---
8/09/2006
South Africa: Broadening the Scope of Rape
"With a new broader definition of rape, men will for the first time be able to lay a charge for being raped. Also forcing people to have sex, having sex as a result of abuse of authority and sex under false pretences will constitute rape."
---
8/09/2006
Marijuana Miscellanea
1) Be careful what you wish for - that brand new medical marijuana ordinance might just invalidate some of the exceptions you've already pushed through.

2) Marijuana can cause pregnancy failure.

3) $126,000+ later from a Washington based organization and the anti-enforcement ordinance didn't make it on the Portland ballot.

4) A Bulgarian priest is arrested the 7th time for marijuana possession.
---
8/09/2006
Using the Good Book for a Bad Purpose
Smuggling cocaine into jail.
---
8/09/2006
Kentucky: RIP Drug Court?
Is Drug Court doomed in Kentucky?
---
8/09/2006
How to Catch Driverus Drunkinus
Roving patrols or check points?

I favor patrols. Roving patrols will actually catch those driving eratically because they require indicia such as swerving or driving 25 mph under the speed limit. Check points tend to catch people who are merely above the BAC level and not showing indicia.

The problem is that check points are far more easliy quanitfiable than having officers patrol and they "show the flag." If police do them they may be less effective, but they demonstrate that the police are doing thier job. And there comes a time to justify the budget . . .
---
8/09/2006
Calling on Australia to oppose the death penalty even if the person a country is going to kill isn't Australian.
---
8/09/2006
Oakland: Violent Crime Surges
"The ever-rising number of homicides in Oakland gets the most publicity. But the city also has seen an alarming surge in street crime and violence."
---
8/09/2006
South Africa:
Gotta Let the Millionare Have Enough of His Money to Defend Himself
"It would be unfair and unjust to force alleged millionaire fraudster David King to enter his marathon criminal trial without legal representation."
---
8/09/2006
California: Prison Plan Fight
The Governor wants to build more prison, but the legislators wonder what happened to reforms: "[W]hatever happened to the recommendations contained in the report released two years ago by the blue-ribbon panel chaired by former Republican Gov. George Deukmejian?"
---
8/08/2006
Need to Break a Serial Killer?
Sic three retirees on him. A bunch of letters later you've got admissions on 48 killings.
---
8/08/2006
Not the appropriate way to interrogate a suspect.
---
8/08/2006
Advice for Dealing With Police and Arrests
Skelly finds yet another MySpace entry discussing the legal system.
---
8/07/2006
Alpha-Male Games
Friday, I close up the office and go down to the mall movie theater to watch a movie. I make the mistake of not checking the times before going and the only flick which hasn't started by the time I get there is "John Tucker Must Die." And, yes, I did watch it. Total teenage chick flick. Tucker's a high school force of nature who every girl wants and every guy wants to be - and he knows it. The three most powerful girls on campus (all of whom he was simultaneously cheating on the others with) decide to destroy him. The running joke is that no matter what they do Tucker proves to be absolutely bulletproof. Cute, but don't waste your money.

Anyway, the movie ends and I walk thru the food court on my way to a place where I can buy a phone which will work in Wise County. As I walk thru I spot a girl who catches my eye. At first, I can't figure out what it is. She's not bad looking, but she's too skinny and, while I can't place it, I'm pretty sure her age was within either the too young legally or too young mentally stage. Then I catch it. Her hair looks white-blonde - like it's bleached or colored. But her (rather bushy) eyebrows are exactly the same color as her hair and there ain't a root in sight. Her skin was really pale too. I think she might have been an Caucasian albino, but I couldn't see her eyes.

At this exact moment the smart-ass high school guy at the table I'm walking past on my right decides to mess with the fat, short, bespectacled, suspenders wearing old guy walking past. I'm sure I looked the perfect target and most the time I would just ignored him, but something - maybe testosterone kicked in because I was looking at a girl or that I had just watched a movie about an indestructible guy (who knows?) - had me in a mood to mess back.

The kid sticks his hand up in the air from where he's sitting at the table. I give him a curious look and note that he's sitting at a table with another high school guy and two girls. I keep walking and he leans toward me and sticks the hand up kind of in front of me. "C'mon, gimme five."

So I reach my hand out at about waist level and we do the half-handshake, half-finger slap which I'm sure all those of you who practice criminal law have done with your clients. Only, I don't let go. Holding his hand and looking him straight in the eye I ask: "Man, I know you?"

He's still got that screw-with-the-old-guy gleam in his eye: "I don't know man. Do you know me?"

Me: "I don't know. I'm a criminal defense attorney. You spend a lot of time in court?"

The two girls at the table actually flinch and look down. The kid snatches his hand back, breaks eye contact, and turns away from me back to the table. He's mumbling something like, "yeah, yeah, that's it." I glance around and none of the kids will even make eye contact. I turn and walk away.

It wasn't really a fair match. Army Intel trained me to play mind games and the kid was a rank amateur at messing with people compared to your average client. And I should probably feel guilty for messing with the kid in front of a girl he was trying to impress. Still, I gotta admit walking away from an adolescent, childish, immature chest-thumping contest decades after graduating high school as the winner still feels kinda good.
---
8/07/2006
Most People Commiting Violent Crimes Have Previously Been Convicted
I think the appropriate comment here is "Duh!"
---
8/07/2006
Cases Citing Blogs
Here and here. And yet, somehow they've missed CrimLaw.

C'mon guys and gals! Are none of Ye Faithful Readers clerks? Ya' gotta sneak me in there somehow.

But wait, it's all clear now . . . I'm so far out in the longtail that ya'll are just waiting to use me as that one killer cite which clarifies the most important criminal case of the decade and sets precedent for lifetimes to come.
---
8/07/2006
There's nothing wrong with a law that punishes you for knowingly having sex while carrying HIV and not telling your partner.
---
8/07/2006
Ummm . . . If you're the people who stole the battery charger from the Taupo, New Zealand police department - they'd like it back.
---
8/07/2006
Now I Understand
About every week or two someone appears in the law library and wants to know how he can get a conviction off his record. Since the law librarian cannot tell him (UPL), I'll step up and tell the guy that once you're convicted in Virginia you stay convicted.

I used to wonder where these people got the idea that convictions could be made to go away. Now I know.
---
8/07/2006
Attack a Judge in New Zealand
Jump at him in court, hit him a couple times, and even admit that you intended to stab him: 12 months.
---
8/06/2006
Accused of Stealing $300,000 from Clients
$300,000? I am definitely doing the wrong type of work. Of course, hopefully, I'd just be taking my 25%.
---
8/06/2006
A Trooper has an accident and the person he was chasing turns around to help him.
---
8/06/2006
Crimson Bear
A new PD who has already been propositioned by a client.
---
8/06/2006
Hungry? You could always try robbing a bank. 'Course, it might not work out.
---
8/06/2006
If New Zealand Won't Let You Import Marijuana . . .
. . . you can always try California. Then, if you are richer than spit, you can choose a town and fund a referendum to keep police from enforcing anti-marijuana laws.
---
8/06/2006
6 months for forcing her mentally ill relative to sell her body.
---
8/06/2006
$1 Million in Cigarettes Sold to Inmates
But where did the money go?
---
8/05/2006
A Judge Calls Out the Federal Sentencing System
Rather powerful words.
---
8/05/2006
Sorry, But Failure to Have Sex is Not a Crime
Not even if its because your husband refuses to sleep with you.
---
8/05/2006
New Chief Constable: A Year Later
Not as well beloved.
---
8/05/2006
Post-Conviction Recant by State's Witness
Basically, he says the State forced him to testify upon threat of more time.
---
8/05/2006
M&M Art in Prison
It's innovative and probably a great way to pass time. Oh, and it angers the powers that be.
---
8/04/2006
Commonwealth Attorney Conference
The Old Worry Supplanted by a New
Okay, the Commonwealth Attorneys are all off on there get together/CLE yesterday, today, and tomorrow. These used to worry me because the prosecutors would come back with some fairly novel new approaches to the law:
Prosecutor: Your Honor, we're going to ask for the death penalty in this case.

Judge: Mr. Smith, this is a jaywalking case.

Prosecutor: I understand that your Honor. Under the new statute passed by the General Assembly as interpreted by Commonwealth v. Rankoov we can assert the death penalty as long as the misdemeanor doesn't specifically call for jail time.

Judge: If you say so counselor.

Me: (sputter) em, er, eh, WHAT!?!
Of course, that's not as much a concern as it has been in previous years. This year I suppose I should be more worried about the people with whom I've been bumping heads for the last seven years or so having interesting conversations with the guy who's going to be paying my salary pretty soon.

Hmmmm . . .
---
8/04/2006
Here's a Defense Which Needs to Fall Flat on Its Face
Child Rape as Religious Freedom:
"I'm a pedophile. I've been a pedophile for 20 years. The only reason I'm charged with rape is that no one believes a child can consent to sex. The role of my ministry is to get these cases out of the courtrooms."
Not that I think anyone should take any part of this defense seriously, but it even fails its own internal logic. Among the kids he is charged with molesting are two disabled and seven autistic boys.
---
8/04/2006
Will we enforce other countries' internet laws despite the fact that it's not illegal here?
---
8/04/2006
Being an Ex-Mayor Doesn't Get You Bond
Do white collar defendants get appeal bonds more often than street level defendants?
---
8/04/2006
Case Dismissed! Now go back to jail . . .
. . . and serve two months because we forget to release you.
---
8/04/2006
Public Defender Clothes.
---
8/03/2006
Dog Kills Elvis' Teddy Bear
An insurance company requires that a guard dog be put in a room with a bunch of rare, collector stuffed animals - guess how much damage a doberman can do in a room full of stuffed toys.

C'mon guys, my labrador is one of the calmest dogs in the world and he rips up stuffed animals like he's mad. I don't think anyone who has ever owned a dog would think putting a doberman in this room is a good idea.
---
8/03/2006
Seems Like a Lot of Effort
It looks like a Trooper in Pennsylvania is going to get his day in court after all.

One judge refused to sign off on a warrant for drunk driving when the Trooper tried to charge the passenger. The drunk passenger admitted holding the steering wheel for the driver while the driver took a bite out of his sandwich. A different judge signed the warrant.

This is one of those news stories where I just don't feel like I'm getting the entire story . . .
---
8/03/2006
Will They or Won't They?
If you ever think that our death penalty is inhumane, take a glance over at Iran. They're trying to decide whether a woman should be stoned to death.
---
8/03/2006
Even the Judge Gets No Pro
Remind me never to move to Detroit.

No less than a judge gets mugged. His car keys are stolen. He tells the police. They say they'll keep an eye on his vehicles.

The next morning the cars are gone.

If that's the level of protection a judge gets, I'd be doomed.
---
8/03/2006
News Flash!!!!
People are shoplifting to get money for drugs! Fences are buying the shoplifted items from the addicts!

Yep, it's truly shocking. 'Cuz anybody who has worked in criminal law figures this out in about his first 15 minutes of practice.

I cannot tell you how many times I've represented the "cutout." The more serious criminal always seems to be a step away from where the catchable crime occurs. Almost always he tries to maintain some level of deniability. My client will be caught shoplifting anything from steaks to baby formula to computers. He wasn't sent there by whomever he's going to sell the stuff to, but there's a reason that he's stealing baby formula rather than trail mix. He knows what he can sell to get enough money to buy a few rocks. Or perhaps he knows what he can trade to his dealer who will then sell it to the fence. Either way, business as the fence is always more lucrative and less dangerous.
---
8/03/2006
Long Jail Sentence
In order to get a threat across to a girlfriend a guy snaps the necks of 10 puppies.

We got judges around here who would send you to the pen for the rest of your life for that. Not sure they'd be wrong.
---
8/03/2006
Ireland: Vandalism Excused
Okay, if I understand this correctly, it's a defense (or, more likely over there a defence) to destruction of property if it is opposition of a war which is possible (hadn't started yet). However, if the bailee of the property tries to defend it he is breaking the law.
---
8/02/2006
Yesterday's Truly Important News
No Soriano trade!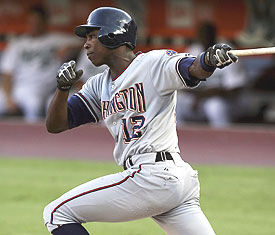 Maybe once I move to Wise I'll be outside of the blackout zone and able to actually watch a Nats home game. Can someone please explain the logic of blacking out a 7 p.m. game on a Tuesday night when there's no way people who have jobs can drive up to DC, watch a game, and get back to the Richmond area sometime after midnight?

And, oh yeah, there was a bit of a buzz because some yutz is changing his job.
---
8/02/2006
An Interesting Question
"My question is whether or not the state has a moral obligation to forgive those that commit unlawful acts. Should the state, at some point, forgive an individual who has repented (i.e. served time, probation, remained law abiding, is rehabilitated) by sealing the criminal record from public view, erasing any collateral consequences associated with the conviction, offering a certificate of rehabilitation, etc. Forgiveness, from what I understand, is a Judeo-Christian virtue. Is there a place for it in the secular state? Can the secular state forgive people?"

Blatantly plagiarized from Mirror of Justice.
---
8/02/2006
It's Legal . . .
. . . but is it legitimate?
---
8/02/2006
How Every Well Equipped Prisoner is Arming Himself
The Art of the Shiv.

Thanks to William Drenttel.
---
8/02/2006
It's a Law School Question
You see a friend getting in a fight with a bunch of guys. You shoot at the people fighting with your friend. The bullet hits your friend in the back of the head, killing him.

What's the charge?
---
8/02/2006
Not Terrorism
If you are a Syrian-American and you get mad at other Syrian-Americans it's probably not a good idea to make false terrorism claims against them.
---
8/02/2006
Euros for Everybody
Now we can all counterfeit Euros.
---
8/02/2006
It's not murder . . .
. . . if you buy the drugs together.
---
8/02/2006
If you decide to become a prostitute . . .
. . . you might want to keep your boyfriend in the dark.
---
8/02/2006
I Now Know How to Get Published in a Harvard Law Review
All I gotta do is get myself thrown in prison.
---
8/01/2006





Okay, I just wanted to make sure I got everybody's attention.

As of September 01, the Lammers Law Office is closing its doors and I am moving to Wise County, Virginia to take the job of Deputy Commonwealth Attorney.

How did that happen? I'm glad you asked.

To begin with, I wanted to move closer to where I grew up (Lexington, Kentucky), where I went to college (Danville, Kentucky), and where my parents live (Cincinnati, Ohio). On and off over the last few years I have considered taking the Kentucky Bar exam (no reciprocal waiver) and moving back that way, perhaps (because I like the mountains) to Ashland. A couple things made me hesitant to do this. First, I did not want to take another bar exam. Second, I wasn't very thrilled by the idea of having to learn an entirely different set of laws and procedures.

Additionally, I had noticed a disturbing trend in the funding of my practice. Most of you know I've been doing indigent defense. This has never been wildly profitable. However, when I first started I was making enough money - especially before I actually got office space. This was because I was getting a lot of misdemeanors and minor felonies. Quick turn around and not too much work meant the practice stayed afloat. Then a terrible thing seems to have happened: the judges started to think I was competent enough to be given serious cases. These cases ate a lot of time and effort and were more emotionally draining. Slowly the business became less able to sustain itself; a few times in the last three years I came very close to closing down the office and practicing from my apartment and the courthouses again. As a business matter, I should have found a way to walk away from the more serious cases, and moved to more profitable areas such as GAL work (where court appointed attorneys can actually make very good money). However, like a moth to a flame, I found myself drawn to the more interesting legal questions and arguments in the serious criminal cases and it's not like you can tell a judge "No sir, I won't take this indigent case because I know it won't be profitable."

Then came the perfect storm. Earlier this year I had 5 or 6 clients decide to appeal their cases. Then I had a couple of guys decide to take jury trials. All of these are money losers in both terms of money paid for work done and opportunity loss costs (if you're not in court to be appointed to cases because you're at the office researching and writing you lose the income from those cases). Three of the petitions for appeal were accepted (and another should have been). This meant time dedicated to getting the briefs written, appendixes prepared, and prepping to actually go argue. The legal issues were extremely interesting and I don't regret the time spent in the least. However, untold, unpaid hours were lost to the endeavor. And the jury trials were even worse. Because the clients were locked up travel to see them at various prisons took a lot of time. One case fizzled on the trial date after about 20 hours+ of work (pled to a misdemeanor), and I got my $428 for that case. The other was over 40 hours by the time the jury trial ended and I'm still waiting to do the sentencing hearing; I'll get $445 when all is said and done. Needless to say, the money situation at my office has gotten tight.

The seed which was planted about me asking Chad Dotson (BTW, Chad was the original Sheriff a relation?) for a job came from an unusual source. You'll remember that a while back a blogger using the pen name "Libertas" asked some questions about Chad and what was going on in Wise. I posted a reply at CrimLaw and Libertas sent me an email asking me if the could quote my reply and what my ties with Chad were. I told him there were no ties - however, Libertas got me thinking . . .

Then, one day I was glancing thru the Virginia Lawyer's Weekly and saw an ad that Chad was hiring. I put it up on the blog and then put it up again later. Chad even posted a comment joking with me about giving him a call if I ever decided to cross over. A joke he may yet come to regret. ;-)

After having the ad up the second time I started thinking about it and did a little bit of research. I'd been to Wise a couple times in my life and knew it is a beautiful area. I was also able to get a pretty good idea what the courthouse looks like inside and out (although that seems to vary from picture to picture - this is my favorite). I talked to some people whom I know have lived there and a junior prosecutor whom I trust about what life's like on the other side. I also figured out that Wise borders Kentucky. As a crow flies, it's probably about as close to Lexington as the place in Kentucky I was considering and it's about 4 hours from Cincinnati - AND I wouldn't have to take another bar or learn an entirely new system. If only it paid $250,000 a year it'd be absolutely perfect; as it is it's still pretty dawg-on good.

And then I thought back to some advice which surfaced from Professor Groot when he passed last year (though not given to me it seemed apropos):
Groot: "You know, Mr. Sullivan, if you enjoy Criminal Law, you should think about a job as a prosecutor."

Sullivan: "Mr. Groot, there is no way I would work for the government."

Groot: "Mr. Sullivan, having chosen the profession of intellectual prostitution, you should worry less about who is paying you and more about making sure you get paid."
BTW, for those of you who don't know - that's a Grootism and if you didn't got to W&L you may not get the humor/truth. That's okay, you had to know Groot (he wasn't exactly a prosecutor's best friend: "At the time of Groot's death, none of his clients had been sent to death row").

With all this in mind, I decided it was "time to put out the fire and call in the dogs." I wrote Chad an email asking if he would entertain the notion of hiring me and he was kind enough to do so. The next thing I knew I was trying to get out of rental agreements and hand off cases and dates to other attorneys. Now it's just a matter of getting thru that last month of private practice and getting moved out to Wise.

How will this effect the blawg?

I'm not sure at this point. The news links will most likely continue with little change outside of whatever change comes from experiential bias when I have experienced the other side. Stories about what has actually happened as part of court are likely to be far less common; when you are always in one courthouse and people are working to appeal your result the problems which could occur are fairly obvious. I'm not sure exactly where I'll draw the line, but it will have to be stricter than I currently have it. BTW: Chad has not said a word to me about this and NOTHING ON THIS BLOG IS REFLECTIVE OF ANYTHING IN THE WISE COUNTY COMMONWEALTH'S OFFICE.

And that's the way it is. I look forward to your comments.